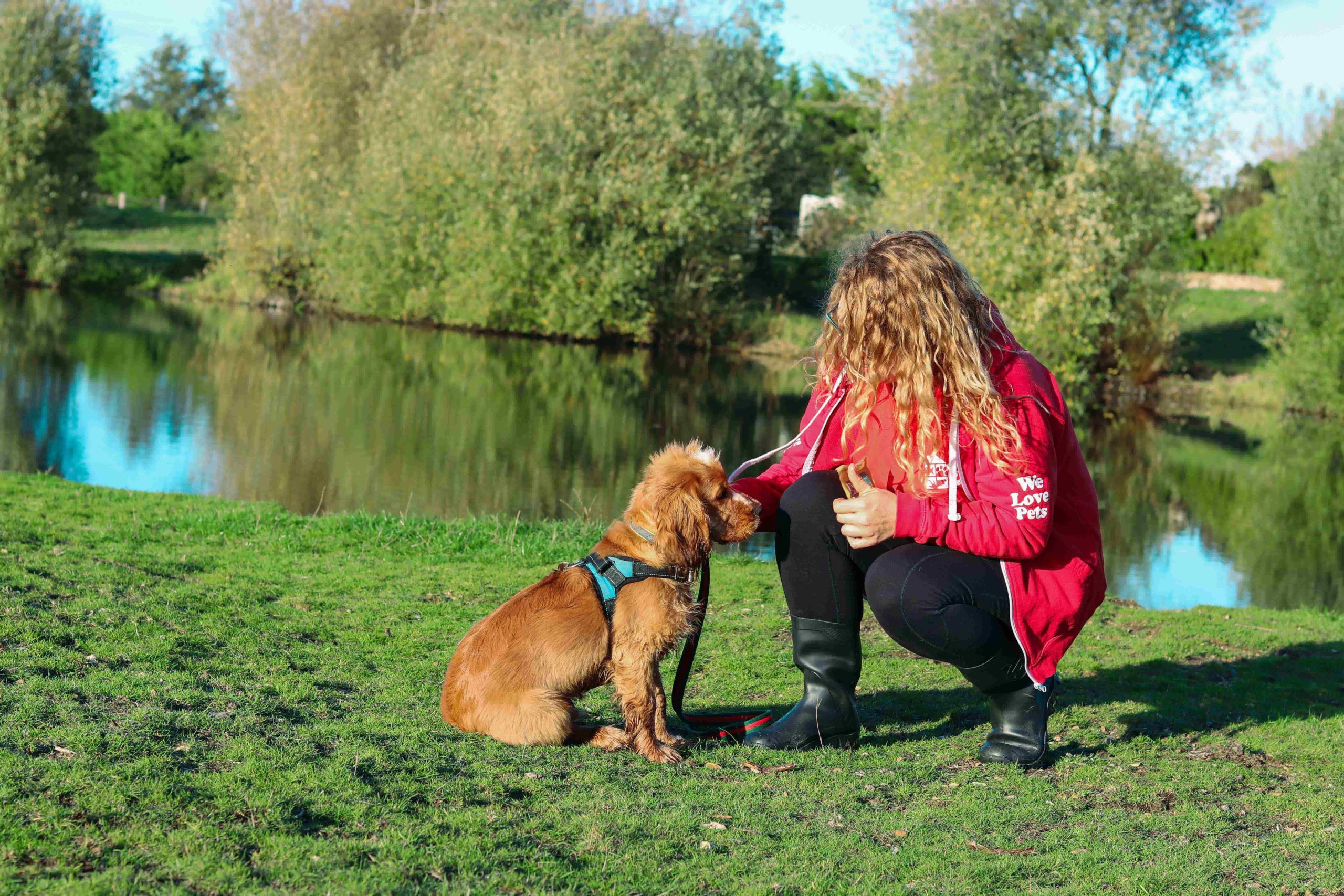 Pack walking is when a large group of dogs are walked together at the same time. Any group larger than four is considered a pack. These dogs are usually picked up from different households one by one, put in a van and either walked together on leads or let off the lead in a park. The dogs are often controlled by a single dog walker. What's more, the dog walker doesn't technically have to have any training or credentials to look after them.
"Just because you come home tired, doesn't mean it's been a good day"
Small groups of no more than four dogs that get along together are fine, but pack walking is not. It's not good for the dogs, the dog walkers and the general public who run into them.
Book a dog walker who doesn't pack walk
The We Love Pets dog walk explained…
We haven't met a dog yet who doesn't like going for walks. Not only are walks an excellent way of keeping a dog fit and healthy, but they also burn off all that pent-up energy and gives dogs the new and stimulating experiences that they need.
Dogs usually love to socialise with other dogs – just see how quickly they make friends with others they encounter when they are out! This is why we often walk dogs in pairs, three's or fours (from a maximum of three households) as these provide three of the important things that a dog needs; play, socialisation and enrichment.
"I've seen too many tragic dog injuries"
"In some respects, we have bred dogs to be perpetual puppies. When in the company of other dogs, their natural inclination is to act like puppies, with playful games of chase or wrestling with that rough and tumble frenzy similar to what we see in human children of preschool age. This can produce bonds of friendship between dogs and can generalize to become a positive and friendly attitude toward all other canines. However, in some cases, such forms of rough play can produce antagonistic relationships and attitudes. This is not uncommon when dogs have been allowed to run in an off-leash park area or have been placed in a doggie daycare where they interact with dogs of mixed sizes and temperaments in a generally unsupervised way. Under such circumstances, dogs may actually develop a general hostility or fear toward all unfamiliar dogs rather than acquiring canine friends."
An excerpt from Dr Stanley Coren, PhD., DSc., FRSC in an article for Modern Dog magazine.
"I feel the point to bear in mind with pack-walking is that dogs cannot be expected to get along 100% of the time. Just like humans, and when excitement levels run high what would normally be a small disagreement between two dogs can turn into a multi-dog fight very quickly.
Recently an older Jack Russell came into the clinic who lives on a farm with a large number of dogs and is pack walked every day. But that day, they fell out with another dog and a fight broke out. Three surgeries, multiple stitches and months of recovery later, she has now been rehomed because she doesn't tolerate any dogs at all anymore. The owner was also bitten trying to get her out of the dog pile and no longer walks the dogs on their own."
Chelsey Wheeler
RVN, RVT, BSc. and We Love Pets go to Vet Nurse
"A lot of behaviour problems stem from being forced to tolerate a situation dogs aren't comfortable with or being allowed to get away with inappropriate behaviour because it's not being monitored properly.
"Walking dogs in pairs or threes means we can match dogs who are similar ages, enjoy the same things and can get the most out of their walks. They also allow us to add more enrichment and monitor interactions so we can make sure they are really enjoying themselves."
Amy Pearson
APDT Advanced Dog Trainer